One domain in which design thinking finds a huge application is the education sector. These days, educators are using design thinking extensively to improve the quality of education in schools, especially in the kindergarten classes. Design thinking has been used in schools to upgrade the curriculum, or to redesign the student spaces or to make the entire experience of the students worthwhile.
Design thinking helps the school administrators to solve institution-based problems, helps in making the curriculum more valuable to the students and to engender design thinking skills in students as well.
REDLab Group
Stanford University's Graduate School of Education has a REDLab group which conducts research on how to apply design thinking in kindergarten, 1st to 12thgrade, secondary and post-secondary academic settings. The REDLab group has teamed up with Hasso Plattner Institute to create Hasso Plattner Design Thinking Research Program, which works for applying rigorous academic methods to understand the reasons behind the success and failure of design thinking programs.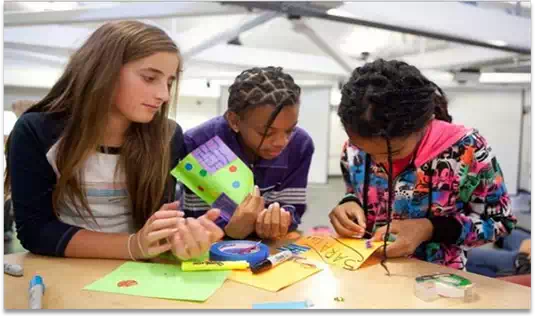 In schools, students normally attempt exams in the form of question-answers based test, fill in the blanks or match case type of questions. All these don't prepare the students for a society that is complex and has much more to it than plain facts.
Tools at Schools
The Tools at Schools group once conducted an activity with the 8th grade students in The School at Columbia University. The activity included redesigning a locker, chair or desk to suit the requirements of 21st century students. Design thinking was applied in this activity and the results were displayed in International Contemporary Furniture Fair. Design thinking also helps the pupils to learn how to work collaboratively in a team.
Degrees and Certification in Design Thinking
Design thinking has become so popular in the education sector that Radford University has begun offering a Master of Fine Arts degree in design thinking. It is an online degree emphasizing of design principles and design methodologies.
The Victoria-Cedar Alliance in Singapore offers a six-year Imagineering Program. This program offers an opportunity for the students to gain a deeper understanding of social issues, develop empathy and work to improve the lives of fellow human beings.
In education, design thinking helps the students to understand that they can create their own future by borrowing frameworks from other areas. This enables them to design their own experiences and participation.
Design thinking also helps in pedagogy. Teachers find it easy to find solutions by learning from the experiences of others, rather than just reading contents of a book. The collaborative activities help the teachers to teach the concepts in a better fashion to the kids.