Knowledge Acquisition and Application
Knowledge acquisition is the process used to describe the rules and ideologies required for a knowledge-based system. It is the process of extracting knowledge from experts and structuring this knowledge into a readable form.
Some techniques used in the process of extracting information are Interviewing, Observations, Protocol Analysis, and Brainstorming.
It is ideally driven by strategies − for example, an organization decides what knowledge is needed, what it has, and then fills in the gap by developing new knowledge or acquiring it. Knowledge acquisition has several applications that we will be discussing in this chapter.
Codifying Explicit Knowledge
Converting unspoken knowledge to a categorical form by way of codifying, and to acquire this tacit knowledge as explicit meta-knowledge (knowledge about knowledge).
This is basically a directory which knows what and how to contact them. The aim of the codification is to make it easy to organize, locate, share, store, and use the knowledge.
Common material including codified knowledge are manuals, spreadsheets, decision support systems and procedures.
Anyhow, the codification process is generally expensive and it is difficult to code for universal understanding too.
Creation of Tools
Knowledge creation is all about continuous transfer, combination, and conversion of the different types of knowledge, as users practice, interact, and learn.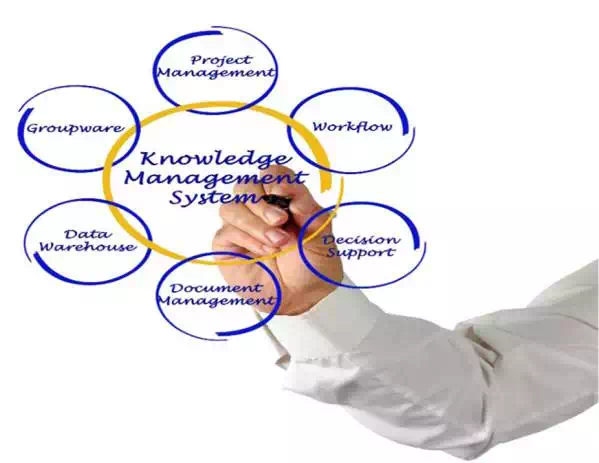 Content creation and management tools are essential to structure and organize knowledge content for each retrieval and maintenance. It consists of the following tools −
● Authoring Tools
● Annotation Tools
● Data Mining and Knowledge Discovery
● Templates
● Blogs
Authoring Tools
Authoring tools include the software that allow users to create web page or multimedia applications. These are tools by which various media elements are brought together to structure and flow.
Authoring tools align with the aim of capturing the author's tacit knowledge and helping structure that knowledge into an explicit form.
Annotation Tools
Annotation tools help in addition of explanatory comments to a document after it has been created. The comments can be public as well as private. Tools like track changes in MS Word is an example of annotation tools. This tool also helps with the goal of capturing tacit knowledge by allowing authors to connect their expertise to a certain document.
Data Mining and Knowledge Discovery
Data mining pioneers new or hidden patterns in data that resides in multiple databases. It includes statistical analysis to discover relations, correlation, and market related analysis.
Various analysis tools are approached in data mining such as statistical analysis tools e.g. SAS, data mining suites, and data visualization tools.
This tool accomplishes the goal of creating new knowledge by being able to analyze existing data and making something useful out of it. It also helps in predicting future occurrence and forecast expected outcomes.
Templates
It includes designing or patterning of an item that acts as a guide for designing or constructing similar items. This tool is helpful to organize knowledge in a systematic manner, by following an established design.
Blogs
These are webpages that typically focus on a specific subject. They can be like personal pages that are much like personal diaries which are periodically updated and accessible publicly. This web tool fits with the aim to elicit knowledge, by authors being able to express their unique ideas and opinions.
Sharing and Dissemination Tools
It includes groupware and collaborative tools. These tools acts as enablers of knowledge flow and knowledge-sharing activities among personnel.
Groupware invokes class of software (programs) that allows to work together while located remotely from each other.
Here, collaboration is mainly referred as groupware, or work group productivity software. For example − LAN (Local Area Network)
Typically, a groupware supports the following operations −
● Password Protection of document
● Schedule meeting and allocate resources
● File distribution
● Electronic newsletter
● Email (Electronic mail)
● Group Calendars
● Collaborative writing system
● Video Communication System
● Chat Systems
● Wikis