System Dynamics was famously used by Pugh-Roberts/PA Consulting to diagnose the causes of cost and schedule overruns on an Ingalls Shipbuilding (a division of Litton Industries, Inc.) multibillion-dollar shipbuilding program in the 1970s, leading to a $447 million-dollar settlement for the shipbuilder (Cooper 1980). Since then, they have applied system dynamics in dozens of contract disputes related to cost and schedule overruns on very large complex engineering projects.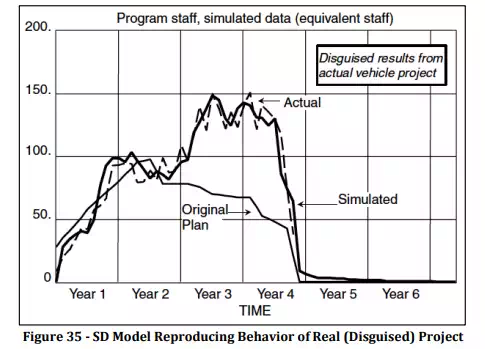 Figure 35 shows the project staffing profile on a real multi-million-dollar aerospace and defense project that ran into such trouble (J. M. Lyneis et al. 2001). Note that the model was able to accurately reproduce the system's behaviour, which was well off plan. Furthermore, System Dynamics goes beyond post-mortem analysis of troubled projects. System Dynamics models can be used to aid in a proactive, strategic/tactical management of design and development projects.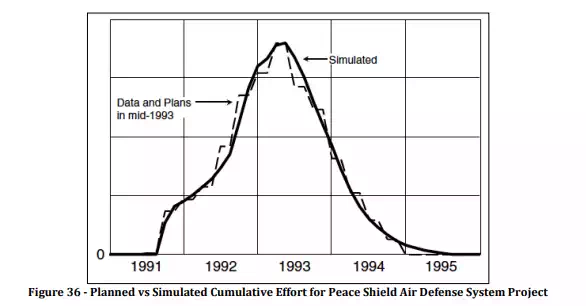 This is illustrated by a case study of the Peace Shield Air Defense System, a $1 billionplus Hughes Aircraft (now part of Raytheon) program. On this project, a model (at the heart of which was the rework cycle) was used to support the project bid, to identify and manage risks, and to assess the benefit of several process and organization changes, which were implemented on the project. Upon completion, the actual project results mirrored the project plan, on time and within budget (Figure 36). The Acting Assistant Secretary of the Air Force for Acquisition was quoted as saying ''In my 26 years in acquisitions, this is the most successful program I've ever been involved with, and the leadership of the U.S. Air Force agrees.'' (J. M. Lyneis et al. 2001).