Such problems require multidimensional solutions. Design thinking helps in this regard. It not only assists a professional to come up with a solution, but it also helps the organization to gain a competitive edge over its rivals. Following are the benefits conferred by design thinking. These are incidentally also the distinguishing features of design thinking.
● Finding simplicity in complexities.
● Having a beautiful and aesthetically appealing product.
● Improving clients' and end user's quality of experience.
● Creating innovative, feasible, and viable solutions to real world problems.
● Addressing the actual requirements of the end users.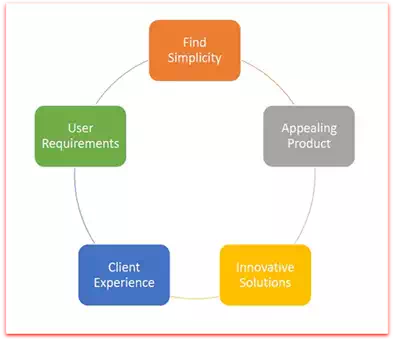 Most of the challenges in the world do not get solved because people trying to address those problems focus too much on the problem statement. At other times, the problem statement is overlooked and there is too much stress to find a solution.
Design thinking helps to gain a balance between the problem statement and the solution developed. A design-oriented mindset is not problem focused, but solution focused and action oriented. It has to involve both analysis and imagination. Design thinking is the way of resolving issues and dissolving problematic situations by the help of design.