Customs Departments are the government designated authority to implement the policies related to import and export, collect customs duties and facilitate movement of people, goods, and cargo into and out of the country.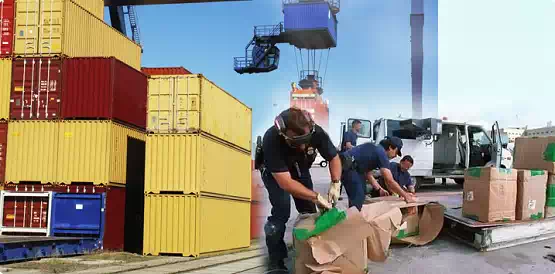 Area of Operations and Authority
Customs departments have offices at all seaports, airports and border gateways that are essentially the exit and entry points for people and cargo movements into and out of the country.
Customs agencies are empowered to make arrests, confiscate goods and enjoy powers similar to that of police departments.
Customs and Trade Logistics
Every country annually publishes its policy for Foreign Trade, which stipulates the conditions under which goods and services are eligible to be exported or imported. Customs departments implement the provisions of the policy under customs rules, regulations and tariffs.
Imports in many countries may be allowed freely, or some categories may be permitted with due licenses. Many items are also published as banned for import and not allowed entry into the country.
All of the items imported into the country have to be custom cleared. This applies to the items brought in as personal effects and also imported by trade and business establishments including governmental and defense agencies. Necessary stipulated duties would have to be paid before the goods are released by Customs.
Cargo imported into the country from any point of entry is warehoused at Customs bonded area under customs jurisdiction until it is released after clearance.
Imports and Customs Clearance
Freight Forwarders who coordinate the international transportation also provide customs clearance services to the clients. The activity is called customs brokerage.
Customs clearance work involves preparation and submission of documentations required to facilitate export or imports into the country, representing client during customs examination, assessment, payment of duty and co taking delivery of cargo from customs after clearance along with documents.
Some of the documents involved in customs clearance are :
Exports Documentation: Purchase order from Buyer, Sales Invoice, Packing List, Shipping Bill, Bill of Lading or Airway Bill, Certificate of Origin and any other specific documentation as specified by the buyer, or as required by financial institutions or LC terms or as per importing country regulations.
Imports Documentation: Purchase Order from Buyer, Sales Invoice of supplier, Bill of Entry, Bill of Lading or Airway bill, Packing List, Certificate of Origin, and any other specific documentation required by the buyer, or financial institution or the importing country regulation.
Customs Agents prepare the document of Shipping Bills in the house for submission while rests of the documents are obtained from the client. Preparing shipping bill involves Classification of cargo under specific classification that is a critical activity in the entire process.
Customs clearance agents are also called Carrying and Forwarding agents. They are registered and licensed by Customs to operate. Their role is limited to acting on behalf of and representing clients as third party agencies engaged in customs clearance.
Customs Agents are linked through EDI with customs in most of the countries and use documentation software to facilitate entire process.