Brand identity can be represented by six faces of a hexagon or a prism as shown below −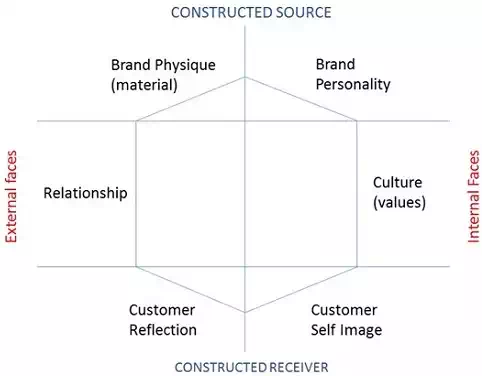 ● Brand Physique − It is the tangible and physical added value, as well as the backbone of a brand. It considers physical aspect of brand: How does it look, what does it do, the flagship product of the brand, which represents its qualities. For example, the dark color of Coke and colorless Sprite.
● Brand Personality − If a brand were a person, what kind of person it would be? Would it be sincere (TATA Salt), exciting (Perk), rugged (Woodland), sophisticated (Mercedes), elite (Versace)? The brand has personality which speaks for its products and services.
● When a famous character, spokesperson, or a figurehead is used for branding, it gives the brand an instant personality.
● Culture − It is the set of values that governs and inspires the brand. Countries of origin, presence of brand over geographically diverse regions, changing society, etc., play an important role in building a brand's culture.
● Customer Self-Image − It is what the brand is able to create in the customer's mind and how the customers perceive about themselves after purchasing the product of a brand.
● Customer Reflection − It is the perception of a customer about the brand after using the brand. For example, "The Thunderbird I purchased is value for price. It is giving me pleasure of leisure riding. Thanks to Royale Enfield."
● Relationship − Brands communicate, interact, transact with the consumer. It is the mode of conduct that defines the brand. This factor is vital for service brands. For example, banking where the cordial relationship develops faith in the customers when it comes to handling their money with respect.
Let us consider the example of brand identity prism for Garnier's BB cream −