A new product is launched under existing brand. It often adds a product of different category. The new associated brand is a sub-brand.
For example, ITC brand with Sunfeast cookies, Vivel shampoo, Bingo chips as its sub-brands. In 1994, Titan Industries Ltd. extended the brand Tanishq, India's only national jewelry brand.
Let us see yet another excellent example of systematic brand extension, Nivea.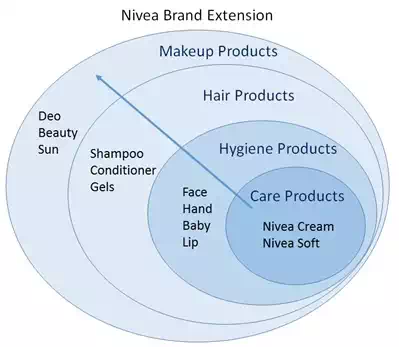 Risks of Brand Extension
Just like product launching, brand extension demands time, resource allocation, energy, and associated risks. When the brand is exposed into unknown market, it might face dominance among established competitors. In addition, the brand image can come into trouble too.
Pros of Brand Extension
● Bypass efforts, time, and cost for developing a new brand.
● Leverages the reputation attached to the parent/family brand.
● Saves costs on follow-ups and introductory marketing programs.
● Reduces perceived risk of customer about the product.
● Elevates the parent brand image.
Cons of Brand Extension
● On failure, brand extension can hurt the parent brand image.
● It can cannibalize parent brand if the sub-brand is more successful than parent brand.
● Creates confusion among customers if not communicated appropriately.
● Can dilute brand meaning.