Organizations that cover a span of geographic regions structure the company according to the geographic regions they operate in. This is typically found in organizations that go beyond a city or state limit and may have customers all across the country or across the world.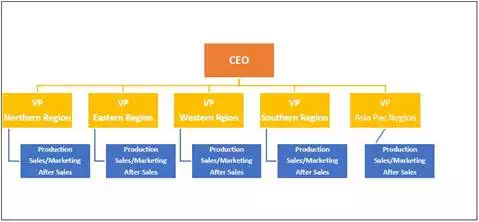 It brings together employees from different functional specialties and allows geographical division. The organization responds more quickly and efficiently to market needs, and focuses efforts solely on the objectives of each business unit, increasing results.
Though this structure increases efficiency within each business unit, it reduces the overall efficiency of the organization, since geographical divisions duplicate both activities and infrastructure. Another main challenge with this model is that it tends to be resource intensive as it is spread across and also leads to duplication of processes and efforts.