A matrix structure is organized to manage multiple dimensions. It provides for reporting levels both horizontally as well as vertically and uses cross-functional teams to contribute to functional expertise. As such employees may belong to a particular functional group but may contribute to a team that supports another program.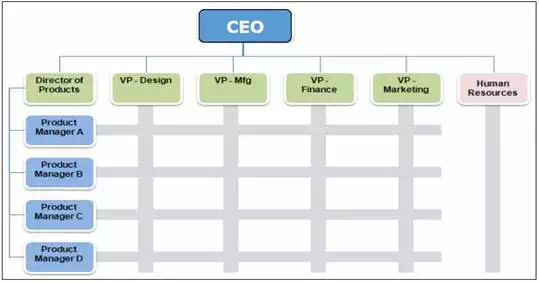 This type of structure brings together employees and managers across departments to work toward accomplishing common organizational objectives. It leads to efficient information exchange and flow as departments work closely together and communicate with each other frequently to solve issues.
This structure promotes motivation among employees and encourages a democratic management style where inputs from team members are sought before managers make decisions.
However, the matrix structure often increases the internal complexity in organizations. As reporting is not limited to a single supervisor, employees tend to get confused as to who their direct supervisor is and whose direction to follow. Such dual authority and communication leads to communication gaps, and division among employees and managers.