What is Pinterest?
Pinterest is a dynamic social media platform for sharing favorite images, videos, fun media, etc. It can be termed as a visual bookmarking tool.
Using Pinterest, you can connect with other like-minded people by sharing your hobbies and interests through online bulletin boards.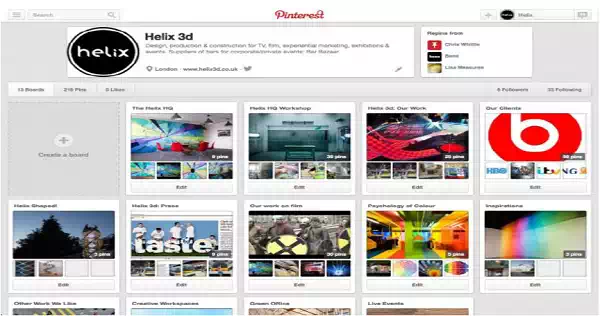 Pinterest taps into a very fundamental human behavior – the desire to collect things (even if they may not be of any apparent value).
History of Pinterest
Ben Silbermann is an American Internet entrepreneur who co-founded Pinterest. He is also the CEO of Pinterest.
Silbermann says that the genesis of Pinterest really came from his love of collecting as a kid. "Collecting tells a lot about who you are," he said, and when they looked at the web, "there wasn't a place to share that side of who you were."
Pinterest – Interesting Facts
● Pinterest is now the fourth largest driver of website traffic.
● Globally, the site is most popular with women.
● In terms of age distribution, the Pinterest demography closely resembles the U.S. Internet population.
● According to Hitwise data, by December 2011, the site had become one of the top 10 largest social network services, with 11 million total visits per week, driving more referral traffic to retailers than LinkedIn, YouTube, and Google+.
● The average purchase generated by Pinterest is double the amount of those started on Facebook or Twitter.
● 80% of pins are repins as opposed to about 5% Tweets that are ReTweets.
How it Works?
Pinterest is a free website that requires a valid registration. You can create either a free personal account or a business account as per your requirement.
● Users can upload, save, sort, and manage images known as pins and other media content (e.g., videos and images) through collections known as pinboards. Pinterest acts as a personalized media platform.
● Users can browse the content of others in their feed. Users can then save individual pins to one of their own boards using the "Pin-It" button, with Pinboards typically organized by a central topic or theme.
● Users can also personalize their experience with Pinterest by pinning items, creating boards, and interacting with other members. By doing so, the users "pin feed" displays unique, personalized results.
● Content can also be found outside of Pinterest and similarly uploaded to a board via the "Pin-It" button, which can be downloaded to the bookmark bar on a web browser, or be implemented by a webmaster directly on the website.
● They also have the option of sending a pin to other Pinterest users and email accounts through the "Send" button.
When you login to your Pinterest account, you will be seeing your home feed. Your home feed shows you all of the most recent pins from the other Pinterest accounts you follow.
Pinterest as a Marketing Tool
Pinterest can be used as a social networking tool to promote your business. It is meant to be a little informal compared to other available forms of marketing.
Pinterest allows businesses to create pages aimed at promoting their companies online. Such pages can serve as a virtual storefront.
For example, in one case study of a fashion website, users visiting from Pinterest spent $180 compared to $85 spent from users coming from Facebook. These users spent less time on the company's website, choosing instead to browse from the company's pinboard.
Further, brand studies have continued to show Pinterest is more effective at driving sales than other forms of social media.
In 2013, Pinterest introduced a new tool called Rich Pins to enhance the customer experience when browsing through pins made by companies.
Business pages can include various data, topics and information such as prices of products, ratings of movies or ingredients for recipes.
Pinterest as a Perfect Media Strategy
You can start a business page with Pinterest as a part of your media strategy initiative to generate new opportunities to connect with your customers and other communities with shared interests. It has the potential to generate substantial revenue and attract heavy traffic in the long run.

Promoting Business through Pinterest
Strategies for Digital marketing
● Building boards that get noticed, drive traffic, and convert fans into customers
● Creating your Pinterest community through high-engagement activities, contests, social media outreach, and smart pinning strategies
Ease of Marketing
● Creating a marketing campaign becomes easy and attractive.
● Selling the content to a target audience is crucial and Pinterest is good at that.
Setting up your Business Account
Whether you are an established brand, a non-profit organization, or a blogger, you can join Pinterest for free as a business. You can make a new business account or convert your current one.
● If you have a personal account, log out of it.
● Go to Pinterest for Business and click Join as a Business.
● Fill out the details about your business and the person who'll manage the account.
● Read and accept the Business Terms of Service and click Create Account.
Pinterest vs. Other Social Platforms
● Pinterest is based on photos. People love to know what they're looking at. It's easier to shop, love, like, hate, in short, make an opinion on, something that you can see.
● The design of the site is visually appealing. It is engaging in a way that other social platforms haven't been.
● Pinterest has a clean user interface, uncluttered by ads or noise. The user interface is easy, manageable, and clean.
Pinterest can be used as an effective tool for interaction with prospective customers.