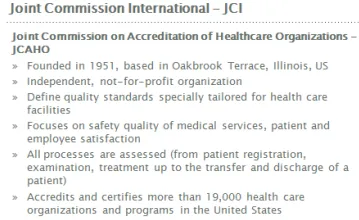 The Joint Commission International is the international branch of The Joint Commission on Accreditation of Healthcare Organization (JCAHO). The later of the two organizations looks back on a long history and is today a very well recognized accreditation institution for health care organization in the US. It got established in 1951 by several American medical and hospital associations and it is based in Illinois, the United States. The aim of the independent, nonprofit-organization is to "continuously improve health care for the public, in collaboration with other stakeholders, by evaluating health care organizations and inspiring them to excel in providing safe and effective care of the highest quality and value" (www.jointcommission.org).
The standard-setting institute JCAHO evaluates and accredits over 20 000 health care organizations and programmes in the United States, e.g. hospitals, home care organizations, nursing home, ambulatory care providers and clinical laboratories. The Joint Commission's Gold Seal of Approval™ issued for an organization confirms that certain quality standards are being met.
There is also a special "Disease-Specific Care certification" for organizations that offer disease specific and chronic health care and a advanced level of certification for certain diseases, e. g. chronic kidney disease or chronic kidney disease.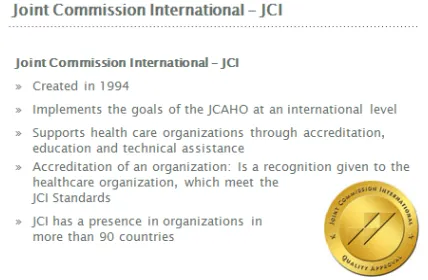 The Joint Commission International (JCI) got established in the year 1994 by The Joint Commission on Accreditation of Healthcare Organization and brings their aims and goals onto an international level. The mission of the JCI is to "continuously improve the safety and quality of care in the international community through the provision of education and consultation services and international accreditation and certification" (www.jointcommissioninternational.org). JCI has a presence in over 90 countries all over the world.
Together with international health care organizations, governments and advocates JCI promotes standards of care and provides solutions so outstanding performance can be accomplished. JCI supports organizations through accreditation, education and advisory services. Together with The Joint Commission on Accreditation of Healthcare Organization and the Joint Commission International the World Health Organization (WHO) established the Collaborating Centre for Patient Safety Solutions.
An Accreditation from JCI shows that the organization is committed to excellence in patient care and safety. (www.jointcommissioninternational.org). JCI offers different accreditation or certification programms, focusing on different specific patient population or settings. Programms include ambulatory and clinical laboratory, home care, hospital, long term care, medical transport, primary care centres. Clinical Care Program Certification (CCPC) promotes "excellence in the integration and coordination of care for treatment of a specific disease". Organization can get certificated in 15 areas, e. g. heart failure, chronic obstructive pulmonary disease (COPD), diabetes mellitus (Types 1 and 2) and chronic kidney disease (Stages I to IV).