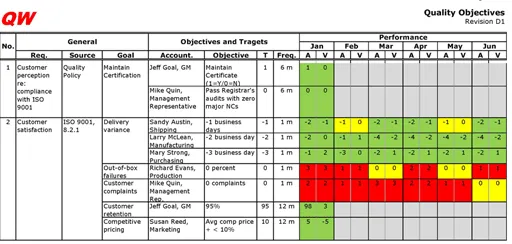 Meaning, Synonyms
The quality goals are specific, measurable (using key figures), and time-bound (SMART) intermediate steps to fulfil the quality policy. These goals should be more specific than the quality policy. For many companies, it is easier to remove the term "quality" from the expression and speak only of goals. These goals can affect all areas of the company:
Company as a whole: Turnover, profit, new customers
Process: Error rates, complaints, processing times, process costs
Products: Number of new products, error rates, complaints
Hierarchy of quality objectives
For many companies, it is easier to not derive the specific (SMART) quality objectives directly from the quality policy, but to rather formulate "high-level" quality goals first and then derive concrete quality goals from them.
Examples
This example is intended to illustrate the path from the quality policy via "high-level" to concrete quality objectives:
Quality policy: We provide a comprehensive range of products and services due to which patients are impaired as little as possible by their diabetes.
Quality objective ("high-level"): We develop a medical device that avoids painful measurement of blood sugar and injections of insulin.
Quality objective (specific): By the end of the year, we will have studied all relevant publications, patents, and products and have evaluated all known alternatives by means of a benefit analysis.
More examples can be found below.
KPIs and Target Values
For each quality objective, one or more KPIs should help to determine progress and degree of achievement. Useful KPIs are
specific, i.e. they truly measure to which extend the quality objective will be met,
easy, i.e. can be captured without causing unnecessary efforts and are
easy to understand.
Examples of KPIs for the quality objective " We achieve our objectives through highly trained employees" would be the percentage of employees actually trained in a given period, the number of certificates awarded to them, or the number of publications and conference contributions published by employees of the company.
Eventually, it is important to define a target value for each KPI and to actually measure it.
Examples of Quality Objectives
Examples of "high-level" quality objectives
We develop products with which cancer patients can always be treated according to latest scientific findings.
For our customers, we generally solve critical errors in our software as quickly as possible.
We increase our productivity by working with latest technologies.
From now on, our employees will be optimally prepared for their tasks also by receiving regular and comprehensive further training.
For our customers' data, we ensure highest IT security.
We gain the trust of our customers through honesty and transparency.
In a next step, these quality objectives should be translated into more specific quality objectives.
Examples of specific quality objectives
Companies should "break down" the "high-level" quality objectives into very specific, measurable, and time-bound targets:
We solve all software bugs which either are security-relevant or hinder usage within two days and deliver updates within three days.
By the end of the year, we will have five product managers trained as usability and requirements engineers.
By the end of the quarter, we will have installed a backup solution for all central servers and have validated the corresponding process.
We are revising our "Software Development Procedural Instruction" until the next release so that it can also be implemented in an agile manner.
We will have completed the CAPA list by the end of the month after next.