Event managers may use an event or a series of events as one of the marketing methods to promote external events, products or services such as shopping malls, tourism destinations, or attractions (such as amusement parks or zoos), or any entity that is appropriately promoted through events. However, in most cases, event managers use marketing forces such as advertising, public relations, promotion, advertising specialties, stunts, and other techniques to promote individual events. These traditional marketing techniques should be used to inform, attract, persuade, sustain, and retain potential customers for your event.
Increasingly, a blend of internal and external event marketing is being utilized to promote events. In some cases, event managers use miniature events as a means of promoting major events.
Both internal and external event marketing are important strategies for your event. Figure 4.1 depicts how this process is used to market your event product. Since resources are always limited for marketing it is important to select those internal or external elements that will most effectively reach and influence your target market.
Sports have generally attracted broad demographics, whereas cultural events are able to target high-income and well-educated consumers. Sponsorship becomes more valuable if the event organization is able to offer precise targeting that matches the marketing objectives of the prospective sponsor. The growth in sponsorship is due primarily to the need by advertisers to find alternative marketing channels to inform, persuade, promote, and sell their products and services. However, the number of events that require sponsorship has also grown in recent years.
Without sponsorship, many events would not be financially feasible. Other events would not be able to provide the quality expected by event participants. Still other events would not be able to achieve their specified goals and objectives. Suffice it to say that more often than not, sponsorship provides the grease that allows the event wheel to function smoothly.
Historically, sponsorship has its earliest modern origin in professional sporting events. These events have always appealed to the widest demographics and were therefore perfect event products for sponsorship. Sponsorship is a uniquely American invention brought forth from the need of advertisers to reach certain markets and the need of event organizers to identify additional funding to offset costs not covered by normal revenue streams, such as ticket sales.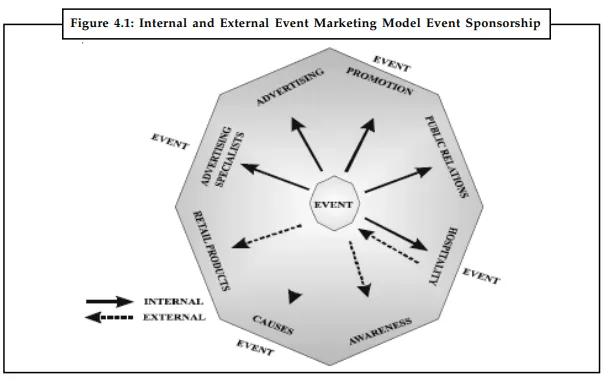 In recent times there has been a noticeable shift in sponsor dollars away from sporting events and toward arts events. The reason for this shift is that sponsors are seeking more highly targeted upscale demographics and the arts' audience delivers that market segment. Therefore, those events that deliver the higher-income demographics are predicted to benefit most from sponsorship dollars in the future.
From fairs to festivals to hallmark events such as a world's fair, the role of the sponsor has earned a permanent place in the marketing lexicon of events. Following are typical types of sponsors for a variety of events:
· Fair: Bottler, grocer, automotive, and bank
· Festival: Department store and record store
· Sport: Athletic wear manufacturer, bottler, brewery, and hospital or health care facility
· School Program: Children's toy stores, children's clothing stores, and amusement park
· Meeting/Conference: Printer, bank, insurance broker, and associate member firms
Use this list as a guide to begin to identify sponsors for your event.