The consumers follow their favorite celebrity and they wish to look, appear, and conduct the way the celebrity does. The companies grip this nerve of consumer behavior to brand their products with celebrity endorsement. The companies use the success and status of the celebrity to brand its products.
The product alone cannot achieve consumers' awareness and recognition as far and wide as a celebrity can help it to achieve.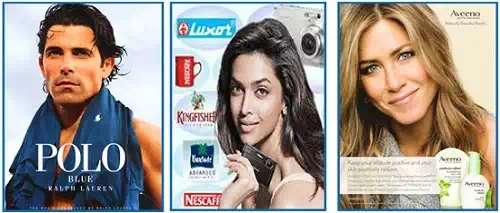 In India, Artist Booking India is a celebrity management and celebrity brand endorsement agency powered by B-Town Entertainment Pvt. Ltd. It has a strong network of TV serials, movies, writers, directors, and musicians in Bollywood. It provides solution right from selecting a right celebrity for the brand, applying strategies for optimizing the celebrity's association with the brand to logistics.
Problems with Celebrity Endorsement
● The contemporary celebrity endorsers can be overused by endorsing too many varied products.
● There must be a reasonable fit or match between the product and the celebrity endorser to appeal the consumers.
● Celebrity endorsers can get into controversies, which can affect the brand adversely.
● Celebrity can distract the consumer's focus from the brand by overshadowing the brand.
● A number of consumers do not connect with the brand because they think that the endorsing celebrity is doing it just for money and do not necessarily believe in the brand they are endorsing.