Any international business organization, depending on its requirements and operations, would have an organization structure to streamline all its processes. In this section, we will try to understand some of the major types of organizational structures.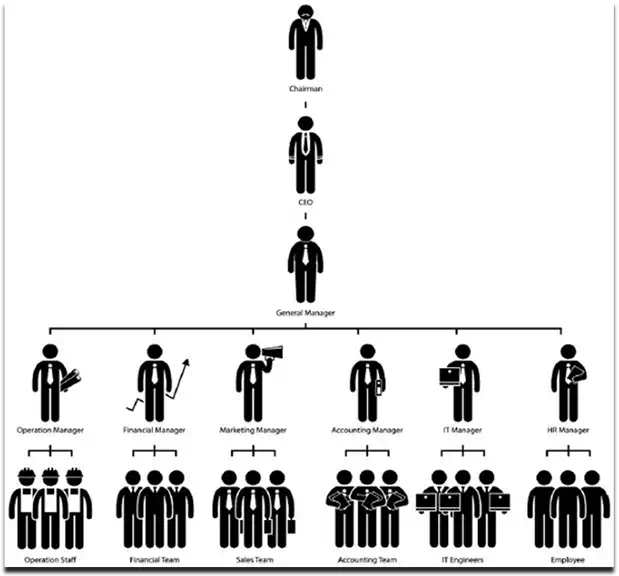 Initial Division Structures
Initial division structures are common in subsidiaries, export firms, and on-site manufacturers. Subsidiaries that follow this kind of organization structure include firms where the main export is expertise, for example, consultants and financial firms. Export firms include those having technologically advanced products and manufacturing units. Companies having on-site manufacturing operations follow this structure to cut down their costs.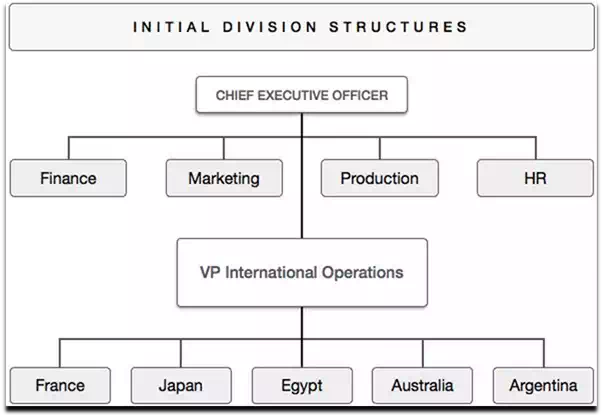 International Division Structure
This structure is built to handle all international operations by a division created for control. It is often adopted by firms that are still in the development stages of international business operations.
Advantages
● International attitude gets the attention of top management
● United approach to international operations
Disadvantages
● Separates domestic managers from their international counterparts
● Difficulty in ideating and acting strategically and in allocating resources globally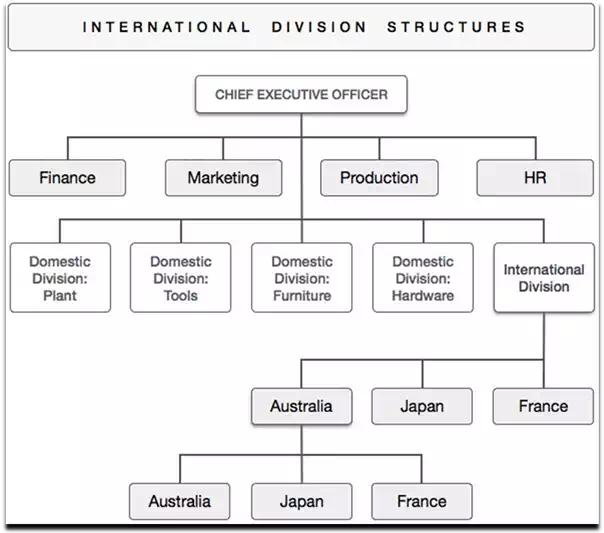 Global Product Division
Global product divisions include domestic divisions that are allowed to take global responsibility for product groups. These divisions operate as profit centers.
Advantages
● Helps manage product, technology, customer diversity
● Ability to cater to local needs
● Marketing, production, and finance gets a coordinated approach on a product-by-product, global basis
Disadvantages
● Duplication of facilities and staff personnel within divisions
● Division manager gets attracted to geographic prospects and neglects long-term goals
● Division managers spending huge to tap local, not international markets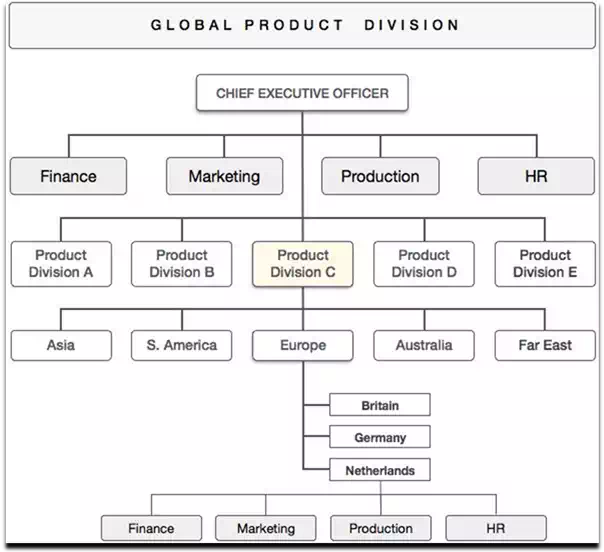 Global Area Division
Global area division structure is used for operations that are controlled on a geographic rather than a product basis. Firms in mature businesses with select product lines use it.
Advantages
● International operations and domestic operations remain at the same level
● Global division managers manage business operations in selected geographic area
● Ability to reduce cost per unit and price competitively
Disadvantages
● Difficult to align product emphasis in a geographically oriented manner.
● New R&D efforts are often ignored, as sale in mature market is where the focus is.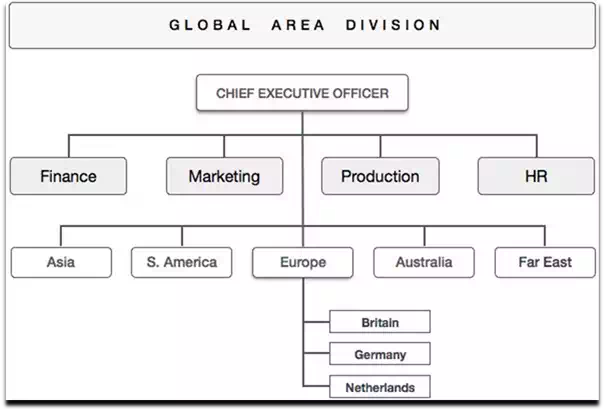 Global Functional Division
This structure is to primarily organize global operations based on function; product orientation is secondary for firms using global function division structure.
Advantages
● It emphasizes on functional leadership, centralized-control, and leaner managerial staff
● Favorable for firms that require a tight, centralized coordination and control over integrated production mechanisms
● Helps those firms that need to transport products and raw materials between geographic areas
Disadvantages
● Not suitable for all types of businesses. Applicable to only oil and mining firms
● Difficult to coordinate manufacturing and marketing processes
● Managing multiple product lines can be challenging, as production and marketing are not integrated.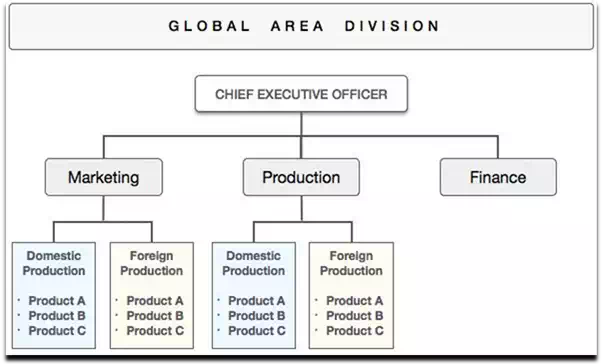 Mixed Matrix
This structure combines global product, area, and functional arrangements and it has a cross-cutting committee structure.
Advantages
● Can be designed to meet individual needs
● Promotes an integrated strategic approach tailored to local needs and priorities
Disadvantages
● Complex structure, coordinating and getting everyone to work toward common goals becomes difficult.
● Too many independent groups in the structure