Without a shadow of a doubt, whenever anyone starts a new job one of the most common questions is – "What am I going to wear?"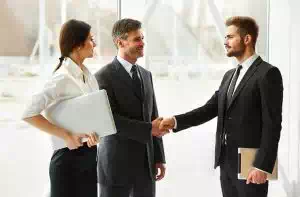 It's a new environment and you want to be sure that you fit in with the corporate atmosphere. You want to make sure you are dressed appropriate, yet you don't want to be overdressed, or even worse, underdressed. Commonly, the human resources department will advise you on the company's dress code, but at times this can prove to be a difficult task as you may be left staring at your closet thinking which outfits will fall under that category.
You might be confused on what exactly business casual is or what business formal is. Stop staring at your closet and take some time to stare at your screen and read the following. Hopefully it clears up any confusion.
Casual and Business Casual
We see casual dress codes on the rise these days, although it's most prevalent in smaller companies with employees of younger demographics, it is also slowly making its way to larger business settings. In other words, the professional dress code no longer exclusively means suit and tie. If your place of employment has a casual dress code, it's safe to say that items currently existing in our closet should suffice.
Black jeans, dress pants, a shirt with sleeves (no tank tops, no tube tops, no jerseys,) blouses and button-up shirts are all acceptable choices.
It's also important not to take advantage of what is considered as casual dress. If you stick to the articles of clothing stated above, you should be fine.
If you are seeking a career in graphic design, you can expect the style of dress to be casual.
Business casual on the other hand, is a little tricky to understand. Business casual is usually common in a more laidback office environment but the employer expects the employees to still look professional. Items such as pencil skirts, dress shirts without ties, sweaters, cardigans, polo's, khakis, dress pants and button-up shirts are all appropriate. Again, many of these items can be found in your closet.
If you are seeking a career in health informatics, you can expect the style of dress to be business casual.
Business Formal
Business formal, now this is, where we start seeing a set of strict dress codes. When thinking of professional and formal dress, think back to what you wore for the interview. Typically an office that calls for professional dress code is one that deals with clients on a daily basis, hence it's important to maintain professionalism in both the style of dress and your business knowledge.
Please note-At times this environment will call for the employee to dress in a suit and tie, skirt, blouse, dress pants and button-up shirt.
If you are seeking a career in international business, you can expect the style of dress to be business formal.
What to avoid
There is a number of apparel that you'll want to steer clear from such as:
· Sweatpants, sweatshirts and running shoes.
· No t-shirts or sweaters with large logos or large graphics.
· No ripped or paint stained jeans.
· Nothing that's see-through, low cut or short.
· Keep your shoulders covered and stay away from tank tops or tube tops.
· Stay away from flip-flops or other open toe shoes.
When in doubt always ask someone to clearly inform you of the dress code. If you are unsure, you will always be safe to lean towards formal attire. Once you get a better sense of the environment, you will learn how to dress accordingly.