In any organization, only two aspects of work exist—on-going operations and projects. Projects are defined as unique, temporary endeavors with a specific beginning and end. Operations constitute an organization's on-going, repetitive activities, such as accounting or production.
Since all work and/or efforts performed within an organization are characterized as either operations or projects, all of the costs of an organization must be distributed to either operations or projects.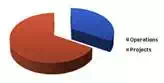 Projects are initiated by organizations for a variety of reasons, such as to meet a business need, attain a strategic objective or meet a market demand. The only way organizations can accomplish any of these goals is by expending resources of the organization over time, for a cost.