We have learnt that if we provide people with an occasion and an excuse to shop, they will come.
− Kishore Biyani (CEO Future group)
Today's retail market is satisfying diverse needs of its consumers. The consumer's needs range from as basic as food & food services to as luxurious as jewelry items. In this chapter, we analyze prominent retail sectors around the world, their structure, and the key players in that sector.
The retail sectors are prominently divided into Food, Clothing & Textiles, Consumer Durables, Footwear, Jewelry, Books-Music-Gift Articles, and Fuel.
Food
It comprises of food and grocery, and food services. The consumers buy packaged food, ready-to-eat food, and avail food services at workplaces. Visiting a restaurant is no more a luxury in today's busy life. The retail food industry is growing rapidly with the pace of lifestyles around the world.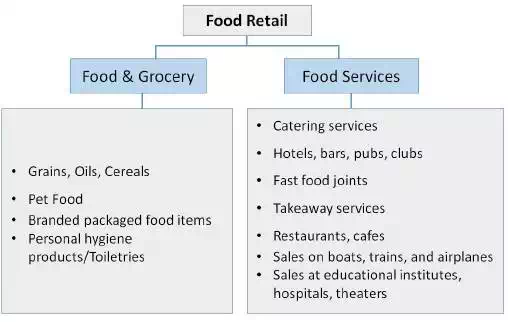 Key Players − Food and Grocery retail: Food Bazar by Pantaloons, More by Aditya Birla, Haldiram's (India), Tesco (UK), Walmart (US), Carrefour (France).
In food services retail − KFC, McDonalds, Pizza Hut, Barista, Café Coffee Day.
Clothing & Textile
Similar to food, clothing is one of the basic needs of humans. The textile industry includes manufacturing of fabrics such as natural fibers, synthetic fibers, looms, and various blends. Clothing is mainly seen as ready-to-wear apparels such as shirts, T-shirts, trousers, jeans, ladies wear, kids wear, baby clothes and hosiery garments such as socks, gloves, and inner wear.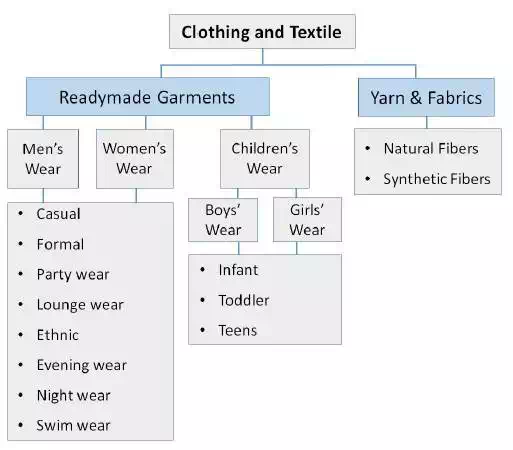 Key Players − Arrow by Arvind Mills, Park Avenue by Raymond, Century Textiles (India), Lee, Wrangler, Nautica, and Kipling, all by VF Corp (US), Bonito Deco Inc. (Taiwan).
Consumer Durables
The consumer durables are expected to have long life after purchase and are not purchased frequently. It comprises retailing cars, motorcycles, and home appliances.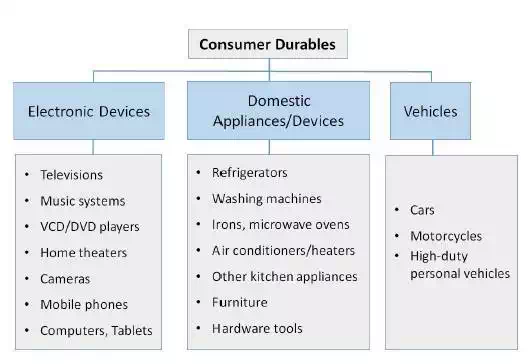 Key Players − Vijay Sales, Croma by Tata, Maruti-Suzuki (India), Honda Motors (US), Samsung Electronics (Korea).
Footwear
Footwear is categorized according to the consumer's gender, raw material of product, and design as shown in the diagram.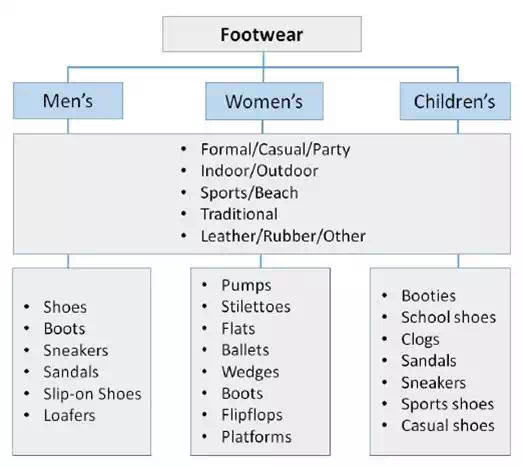 Key Players − Bata, Liberty Footwear, Metro Shoes Ltd. (India), Reebok International Ltd.(UK)
Jewelry
Two major segments in this retail sector are precious metal jewelry and gemstones. Out of the precious metals, Indian jewelry market forms 80% of gold jewelry, 15% of gemstone studded jewelry, and 5% of other metal jewelry.
Regional festivals, special days, and customs drive the demand in this retail sector.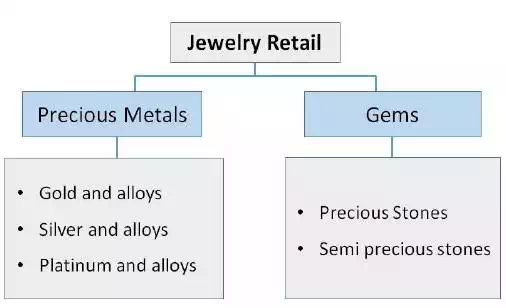 Key Players − Tanishq by Tata, Gili by Gitanjali Group.
Books-Music-Gift Articles
This includes assorted books, movie or audio CDs, gift articles, and souvenirs. These retail shops are often found near residential areas, tourist places, and historical monuments. Festivals and celebrations are main driving factors for sale in this sector. These items are not very frequently purchased and consumer's emotional factor is attached to the products than its benefit.
Key players − Landmark bookstore by Tata enterprise (India), Paperchase (UK).
Fuel
The highest five fuel consuming countries in the world are the US, China, Japan, India, and Russia. This retail involves activities such as production, refining, and distribution. Fuel companies tie up with other retailers such as pharmacies, food & food service, gift article retails to enter into petrol pump convenience business.
Key Players − Bharat Petroleum Corporation Ltd., Hindustan Petroleum Corporation Ltd., Oil & Natural Gas Commission Ltd. (India), Siemens Oil & Gas Co. (US), Caltex Australia Petroleum Pty Ltd. (Australia).