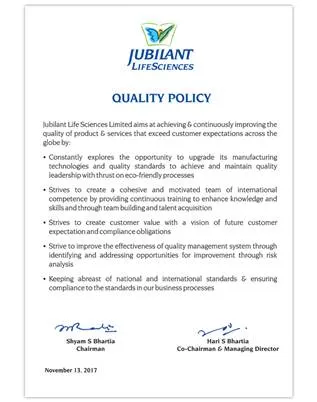 To develop a quality management system that works toward effectiveness and positive results, organizations must clearly define their purpose, context, strategic direction, and quality policy and objectives. Together, these fundamental subjects form the basis for directed progress and success. The quality management statement is a key piece to achieving compliance to ISO standards.
A high-level planning topic, this statement must resonate with and be understood by all members of the team. During the certification audit, the registrar will ask employees to tell them about the company's quality policy, and they are expected to be able to convey the main themes of the policy and how it relates to their day-to-day actions in a succinct and well-understood manner. It isn't required for them to recite it verbatim, but it's crucial that they are able to demonstrate their understanding of the policy's goals.
Because of its importance in the success of the management system as a whole, writing a quality policy statement can cause a lot of anxiety for project directors, especially as they prepare for audit. Naturally, they seek out quality control policy examples, quality policy samples, and information on the proper quality policy format to ensure they are well-prepared to meet compliance requirements and achieve certification.
But it's more than just finding a good quality management policy sample, copying it, and calling it done. To create a quality policy that works for you and provides guidance for your company to see real improvement, you must dig deep to discover what drives the company at its core – it's purpose, issues, and goals.
Start by evaluating your business at its roots:
Purpose: the fundamental reason an organization exists
Context: the internal and external issues that affect the company, and the parties involved
Strategic Direction: the desired path of progress for the organization as a whole
Taking your discovery into consideration, you will draft your quality policy statement:
(As defined by ISO) Quality Policy: a general statement of the organization's commitment to quality
You will then use your quality policy statement to develop quality objectives for your organization:
Quality Objectives: a desired, measurable result regarding quality

Understanding the Requirements of the ISO Quality Policy Statement
Creating a purposeful, meaningful quality management policy statement is more than just writing a slogan. The carefully-crafted declaration must clearly convey how those fundamental subjects make an impact on the output of the company and be put in place to hold the organization accountable to achieve the stated expectations. The standard requires the statement to be written, documented, communicated, and enforced by top management, with the goals and direction gleaned from their high level of knowledge and rooted experience with the company's growth.
There is a series of further requirements that must be met in order for your quality policy to meet ISO standards. The policy must both meet the goals set forth by ISO for compliance and appropriately relate to the purpose and context you have determined for your organization, actively (and properly) serving your business.
The statement must also clearly support the company's strategic direction and serve as a basis for establishing quality objectives (that being, when you determine an objective, it must work toward the overarching goal of the policy). Be sure to include your company's pledge to fulfill all applicable requirements and your commitment to continued improvement of your quality management system.
By way of documentation, the quality policy must be kept up-to-date and be made easily available to all interested parties. Again, it is imperative that it is understood and applied by all employees, so easy-access is key.
Quality Policy Sample
As we have discussed, to fully understand a company's quality policy, you must first know some of the fundamental drivers of their business. There is no specific quality policy format that organizations must follow, but they should be sure to address their purpose, context, and strategic direction through their statement.
Take for example XYZ Products:
Purpose: manufacture precision products
Context: small workforce, new fierce competitors entering the market
Strategic Direction: maintain and expand market share and offer new, innovative products
Taking these baseline factors into consideration, XYZ Products crafted the following quality management statement.
"XYZ Products is committed to manufacturing cutting edge products of an extremely high quality to our existing and growing customer base in an accurate and timely manner. We satisfy customer and ISO 9001:2015 requirements and continually improve our processes to enhance customer satisfaction and loyalty."
Review again the company's purpose, context, and strategic direction. Can you draw the parallels to the quality policy?
Let's examine another statement, this time for a service-oriented company.
Widget Services, Inc. Commitment to Quality Statement Example
Purpose: provide network management and support services
Context: consistently changing technology, high-cost industry, large number of competitors
Strategic Direction: provide superior services to edge out competition in order to maintain existing client relationships and expand into new markets.
These fundamentals translate to the following quality policy.
"Widget Services, Inc. strives to provide superior consulting services in network management and to assist clients by completing tasks in a prompt manner, without compromising quality and customer service. We will assist our customers in product and solution development to achieve top quality at the lowest possible cost. We are committed to continual improvement of our services and proudly adhere to ISO requirements for excellence. It is essential that we meet or exceed our customers' expectations and all other applicable requirements for our industry."